I wait for this moment all year!
This is my 3rd annual Holiday Gift Guide! My gift guides from 2019 and 2018 were such a blast to compile and all year long I think about what I want to share with you. No one could have predicted that this year would be such a disaster, but the holidays are upon us, so let's go!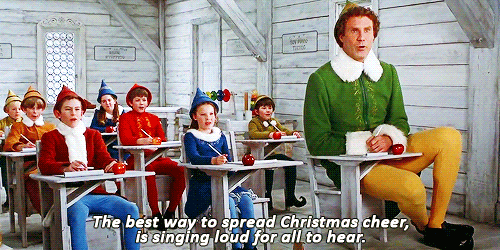 gifts of joy
Gifts of joy seem like the best way to start this holiday gift guide! This year, more than ever, we all need a good laugh. AlwaysFits is really good at making fun and functional gifts that are entertaining and useful! Check out these kitchen towels I got! I can't wait to hang them up and smile and chuckle every time I walk past them. This company sells everything from calendars to kitchenware, greeting cards to games, candles, and more.
For me, food sparks joy! So here are my 2 favorite snacks this year. First, a giant bag of Nearly Naked Popcorn from Popcornopolis! This popcorn is light and airy, made with Coconut Oil, and Gluten-Free! So grab a bag and tell me I'm wrong about it being the BEST! Spoiler alert…I'm not wrong! Second, my love for Sour Patch Watermelons has been replaced with Sour Patch Kids Strawberries! These are perfect for when you're craving some sour candy, but beware they're very addicting!
gifts of comfort
I've always loved candles! In my opinion, candles (like music) can be such a game-changer when it comes to needing a mood pick-me-up! I love supporting local companies and finding Wick and Bloom Candle Co. was an awesome discovery! I tend to gravitate toward sweet-smelling candles, like Pumpkin Chai and Dulce de Leche, but the candle that pleasantly surprised me the most was the Black Sea! This particular candle reminds me of mens cologne and it smells delicious!
These slippers that I received last year, are the epitome of comfort and I love them so much! They feel like clouds on your feet and come in a variety of colors. Add them to your next Amazon order and your feet will thank you, I promise!
When I think of comfort, that means curling up in bed with a warm (now that it's cooling down) cup of something delicious! I've developed a big love for matcha this year, and I love adding peppermint to anything! But we can't forget that perfect cup of joe! So this year I'm adding some tasty favorites from The Coffee Bean & Tea Leaf to my coffee bar!
gifts to help you work smarter, not harder
Please meet my new best friend, Skyroam! Between working from home and being a food and travel blogger, reliable WiFi is a must! Skyroam, a portable and global WiFi network, allows me to stay connected anywhere I go because we've all experienced terrible internet connections and the disappointment of not having that ease and accessibility when we need it most. Until further notice, I'm never leaving home without this little guy!
Raise your hand if you now work from home! 🙋‍♀️ Or in my case, WFB: work from bed! I found this great company in San Diego that will help change up your usual working habits! If you like working from bed like me, check out their Allstand desk. It's really versatile for kids and adults, for working or working out, and more. Prefer to stand? Their standing desk converter, the Readydesk 2 might be perfect for you! Need more dimension while looking at a monitor and laptop, add their laptop riser. Their desks are customizable to suit your individual needs, and because the pieces assemble without hardware, they're easy to take apart and move around.
2020…the year where all we've done is stare at screens for work, school, and maintaining connections with loved ones! Give your eyes some relief and check out these Blue Light glasses from Blenders! These glasses will reduce eye strain, decrease headaches, and help you get better rest! Last year I featured some of their amazing sunglasses, which were a big hit!
You know those annoying moments when your phone dies, and you're suddenly on a short tethered phone charger? This extra long Amazon Basics iPhone Charger makes life so much easier when the inevitable tether is necessary!
gifts to make traveling a breeze
I got this organizing case from UPPERCASE Designs right before the holidays last year to simplify traveling with all of my cables and power cords. It fits my Mac charger, phone charger, headset, stylus, etc and I never leave home without it! This is a great way to protect the integrity of your cords and cables and keep them all handy in one portable case. I'm also super excited to try out their screen cleaning kit because all of my electronic screens are a mess!
Traveling can take a toll on your comfort and compression socks are super helpful in the fight against leg swelling while you're 35,000 feet in the air! They're also great if you're constantly on your feet at work or even on bed rest from pregnancy or hospitalization. And how cute are these Comrad Socks designs!
Speaking of flying, I can't say that I'm looking forward to getting on a plane again considering the state of things. I'm that flyer who already wipes down and sanitizes my seat and area but I'm definitely feeling like I need a Hazmat suit! In lieu of that, I did find these awesome airplane seat covers! To see these Seet Cuvers in action, check out their Instagram account. I'll be trying mine out during my upcoming holiday travels.
on my wish list
Of course, I have my own wish list too! Now that I have all of these new and amazing candles, here are some great gifts to go along with them! This board from Amazon would be great for charcuterie or perfect on a coffee table to contain and showcase all of your candle necessities! I learned some valuable information about candle memory earlier this year, and also took notice of some candle accessories I now need! Equally as important to the accessories is this super cool rechargeable lighter.
[Source: Amazon]
My home definitely needs some help in the zen department. I'm a big fan of diffusing essential oils, and since my diffuser needs replacing, this one is on my list. Alongside those cleansing vibes, I'm not sure how I've lived without an air purifier or a Himalayan Salt Lamp, but they're now must-haves, too.
[Source: Amazon]
So there you have it, gifts for all occasions! With this year being what it's been, my wish for you this holiday season is to stay safe, be healthy in mind and body, find peace and comfort in things big and small, and always pursue things that spark joy! Until next time, happy eating, traveling, and
Happy Holidays!